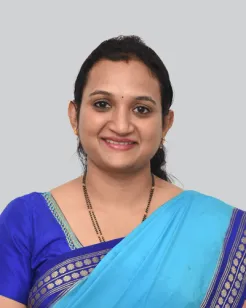 Dr. Esha R Shanbhag
Associate Consultant - Gyneacological Oncology
MBBS, MS (OBG), DNB, MRCOG (UK), Fellowship in Gynecologic Oncosurgery
Overview
Dr. Esha R Shanbhag is an Associate Consultant in Gynecologic Oncology with 5 years of experience. She completed her MBBS from the prestigious Bangalore Medical College and Research Institute (BMCRI) in 2013. She later went on to complete her Masters's in Obstetrics and Gynecology from the Institute of National Importance (INI)-Jawaharlal Institute of Post Graduate Medical Education and Research (JIPMER), Pondicherry in the year 2017. She completed her DNB in OBG in the year 2018 from NBE.
She developed an interest in Gynecologic Oncology and further pursued specialty training in Gynecologic Oncology with a Fellowship in Gynecologic Oncosurgery (RGUHS affiliated) from the esteemed KIDWAI Memorial Institute of Oncology. At KIDWAI memorial hospital, she underwent intensive training in advanced oncology management. Post-training, she also worked at the KIDWAI memorial hospital to enhance her surgical skills.
Dr. Esha is a proud member of the  Royal College of Obstetricians and Gynecologists (MRCOG), United Kingdom. She is committed to academics, research, and training and has several international and national publications to her name. She is known for her commitment and patient-centric approach in all her previous workplaces
Area of expertise
Comprehensive treatment of all Gynecological malignancies - cervical cancer, uterine cancer, ovarian cancer, vulvar cancer.
Cytoreductive Surgeries in Ovarian Cancer.
Gestational trophoblastic diseases including choriocarcinoma.
Preventive Oncology- cervical cancer screening, Colposcopy, treatment of precancerous lesions.
Fertility Sparing and Risk Reducing Surgeries.
Hereditary women's cancers, Genetic testing.
Gynecological Cancers during Pregnancy.
Treatment of complex gynecological conditions.
Awards and recognitions
One among the toppers in the Pre-medical entrance exams.
Topped in RGUHS Fellowship Gynecologic Oncosurgery examination.
Membership
Life Member of the Association of Gynecologists of India (AGOI).
Bangalore Society of Obstetrics and Gynecology (BSOG).
Federation of Obstetrics and Gynecological Society of India (FOGSI).
European Society of Gynecological Oncology (ESGO).
Karnataka Medical Council (KMC).
Royal College of Obstetrics and Gynecology(RCOG).
Publications
Original article- "Surgical Site Infections following Caesarean Section: A Longitudinal Study" published in the Journal of South Asian Federation of Obstetrics and Gynecology (SAFOG) as a first author in May-June 2021, Volume 13, Issue 3.
Case report- "Wilson Disease Presenting during Pregnancy: A Diagnostic and Therapeutic Dilemma" published in the Journal of Obstetric Medicine (SAGE) as a second author in September 2018 volume 11 issue 3.
Original article- "Maternal and Neonatal Outcome in Placenta Previa and Adherent Placenta: A Retrospective Study in a tertiary care Centre" published in The New Indian Journal of OBGYN in the year January 2018 in volume 2 No 2.
Case report- "Management of vulvar lymphedema of filarial origin in a pregnant woman and its outcome" published in the Journal of Obstetrics and Gynecology Research in January 2019.
Presentations at Conferences
Oral Paper presentation- "Surgico-pathological profile predicting recurrence in invasive carcinoma vulva- a retrospective observational study" at YGOG session in the annual conference of KSC-AGOI on December 2020.
Oral Paper presentation- "The role of salvage surgery and feasibility in recurrent malignant ovarian germ cell tumors- A regional Cancer Institute experience" at the annual conference of AGOICON 2021.
Oral paper presentation- "Diagnostic accuracy of imaging in placenta previa and adherent placenta and its clinical correlation" in Karnataka State Radiology Conference 2018.
Poster – "A rare case presentation of Sickle Cell Disease in Pregnancy" presented at the Obstetric and Gynecological Society of Southern Indian conference in Chennai, India on 12th November 2016.
Oral Paper presentation – "Surgical Site Infections following Cesarean Section- a Longitudinal Study" presented at Obstetric and Gynecologic Society of Pondicherry (OGSP) on 16th October 2016.
Poster – "Surgical Site Infections following Cesarean Section- a Longitudinal Study" presented at Annual Research Day 2016 held in JIPMER, Pondicherry, India on September 10, 2016.
Other Similar Doctors