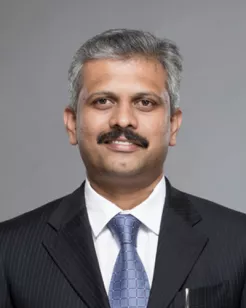 Dr. G Girish
Consultant - Surgical Oncology
MBBS, MS, MCh (Surgical Oncology)
Overview
Dr. G. Girish, is a consultant in Surgical Oncology at Aster CMI Hospital Hebbal Bangalore, with experience of over 6 years. His basic medical training was from the Adichunchanagiri institute of medical sciences, BG Nagar, Karnataka, where his passion for surgery was kindled, which led him to his postgraduate training in General Surgery from Mahatma Gandhi Memorial Medical College. Working at MGMMC, & Maharaja Yeshwanthrao Holkar Hospitals, Indore, MP, one of the oldest medical colleges in the country which caters to the medical needs of people around 5 states, made the surgeon out of him and tuned his surgical skills in managing patient and also oriented towards oncology.

He returned to Bengaluru and worked in the Department of General Surgery at MVJMC&RH, Hosakote, Karnataka, which helped him to pursue his passion for oncology. His passion and persistence in gaining oncology expertise which led him to super specialization in Surgical Oncology at the world-renowned premier cancer institute of India, Tata Memorial Centre, Mumbai. Returning back to Bengaluru he worked as Assistant professor Surgical Oncology at M S Ramaiah Medical College and Hospitals for the two and half years.

Being one of the busiest centres for VAS/BPL scheme in Bengaluru, it has refined his skills, decision making in the management of patients of cancers of the oral cavity, gastrointestinal, gynecologic cancers, thyroid, breast, thorax, urologic cancers. He was also actively involved in teaching medical students and postgraduate students. He joined Aster CMI hospital as a part of Surgery and Allied Specialties team and has expertise in the management of cancers of head, neck (oral cavity, sinuses, thyroid, parotid, laryngopharynx), breast (including breast conservation surgeries, sentinel lymph node biopsy), abdomen (stomach, colon, rectum, small intestine, pancreas, gallbladder, bile ducts), gynaecological malignancies (ovary, endometrium, cervix, vagina, vulva), urological malignancies (kidney, urinary bladder, testes), retroperitoneal tumors, extremity soft tissue tumors. Dr. G. Girish has a special interest in the management of thoracic malignancies including oesophagus, lung, mediastinum and chest wall.

Dr G Girish, a surgical oncologist, has received training under intuitive surgery in Robotic Surgery. He refined his robotic surgical skills by attending various workshops and robotic conferences. These have added immense benefits to patient care, and he implements his knowledge in multiple surgeries, such as surgeries of the pelvic cavity, thoracic cavity, urologic surgery, and abdominal surgery. Robotic surgeries have numerous benefits, such as shorter hospital stay, minimal pain, and early rehab to start adjuvant treatments for patients.