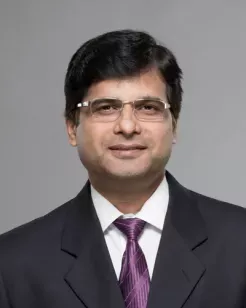 Prof. Dr. Sudhir Kumar Kale
Lead Consultant - Radiology, Governing Council Member - Aster Medical Imaging (India), HOD BMIT Aster - RGUHS
MBBS, DNB, FICR, FIMSA, MNAMS. PGD-CSAI
Overview
Dr. Sudhir Kale is a renowned radiologist and has rich experience of 20 years in radiology with expertise on CT and MRI cross-sectional imaging. He is specialised and well-versed with advanced MRI & CT applications in multiple subspecialities with expertise on Gastro imaging, Oncology, Liver transplant imaging, MSK imaging, Neuroimaging, Pulmonology, Coronary imaging and Head/Neck imaging. He also has a special interest in Artificial Intelligence in Radiology. He has interpreted more than 2 lakhs cross section imaging scans which include advanced imaging in multiple subspecialities.
Dr. Kale did his post-graduation in Radio Diagnosis from Barnard Institute of Radiology - Madras Medical College. He is a PG teacher and Guide for the National Board of Examinations (New Delhi). He is professor and HOD for Bachelor of Medical Imaging Technology Aster-RGUHS. He is an academic head for radiology post graduate training program, radiology technologists including fellowship program in Aster CMI hospital. He is currently the Vice President for Karnataka State Chapter of IRIA and State Coordinator for ICRI.
He is very active in academic activities in radiology education in IRIA and ICRI. He is fellow of Indian College of Radiology and Karnataka State Coordinator for ICRI. He is a national Speaker for ICRI Teaching Program. He is a subject expert in Radiology for National Board of Exams. He is on the expert panel for the National Advisory Scientific Committee of IRIA 2023. He is a member of the Society of Oncologic Imaging of India and European College of Radiology.
He has given 270 plus platform presentations in CME, state and national conferences and international conferences. He has conducted as organizing chairman and scientific chairperson many conferences and CME at state and National levels.
 
Area of expertise
Abdominal Imaging, 
Oncology
Liver imaging, 
MSK
Head and Neck imaging
Awards and recognitions
National prize for best scientific oral presentation in 56th Annual national IRIA conference Jaipur, Birla auditorium, 4 – 7th Jan 2003 as postgraduate
Award for Academic excellence: Karnataka State chapter IRIA 2022
Appreciation award towards teaching activities of IRIA 2020 and 2021 by national IRIA
National appreciation Award for Scientific Committee Co- Chairman- National IRIA 21 -22 
Appreciation Award by president Royal College of radiologists (UK) 2023 for RCR REAL-IRIA collaborated program
Chairman Excellence award for advanced diagnostics at ASTER CMI hospital 2023
Fellow of Indian College of Radiology (FICR)
Fellow of International Medical Sciences Academy 
Quiz Master for National IRIA and Karnataka state chapter IRIA
 
Memberships  
IRIA: Indian Radiology and Imaging Association
ICRI: Indian college of radiology & imaging: ICRI NO: R4 /K-10B
Society of Oncologic imaging India
ISGAR: Indian society of gastroabdominal radiology
IACI: Indian association of cardiac imaging
ECR: European congress of radiology
 
Publications 
Many publications are published in national and international journals.
Authored chapter in comprehensive textbook of Clinical Radiology (Elsevier Publication) and in textbook of Fibroids with Color Atlas.
 
Other Similar Doctors