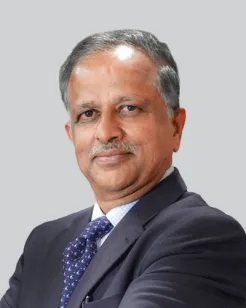 Dr. M S Belliappa
HOD and Lead Consultant - Radiation Oncology
MBBS, DMRT, MD RT, DNB RT
Overview
Dr. M S Belliappa is a renowned radiation oncologist working at Aster Hospitals, Bangalore. Dr Belliappa is one of the senior radiation oncologists at Aster Hospitals in Bangalore. He has more than 30 years of experience in Clinical Oncology. 
He has vast experience in modern radiation therapy techniques, such as IGRT, IMRT, VMAT, SRS & SBRT; special techniques including TBI, TSET, ECRT & DIBH and Brachytherapy. He has a special interest in the treatment of Breast cancers, Head and neck cancers & Gynaecological cancers. 
 
Dr. Belliappa has received advanced training in Brachytherapy for Gynaecological and prostate cancers at Long Beach Memorial Medical Cancer Hospital, Los Angeles, California. He has fellowships in high-precision radiotherapy techniques from California Cancer Hospital, Fresno, CA and Heidelberg University, Germany. He also holds a certified CyberKnife training from Stanford University, California and Mount Saini Hospital, Philadelphia.
Dr. Belliappa has published multiple peer-reviewed studies in both national and international journals in diverse areas in the area of cancer and oncology. Over 40 publications in national and international journals, books, book reviews and research papers in diverse areas of oncology.
He has served as the Secretary and President of the Association of Radiation Oncologists - Karnataka Chapter. He was also the Secretary of the Bangalore Oncology Group.
Area of expertise
External and Brachytherapy in Radiation oncology
Special interest in the treatment of Breast cancer, Head and Neck Cancer & Gynaecological malignancy.
3DCRT, IMRT IGRT, Rapid Arc, SRS SBRT, Cyberknife treatment.
Brachytherapy in Gynecological cancers, Head and Neck cancer & Soft tissue sarcomas.
Awards and recognitions
President of AROI Karnataka Chapter 2016-2017 
Secretary for the Association of Radiation Oncologists - Karnataka Chapter 
Secretary for the Bengaluru Oncology Group
 
Publications & Paper Presentation
Served as a prime investigator and sub-investigator for more than 30 clinical trials conducted on various types of cancer.
Presented and published papers at more than 25 national and international scientific conferences.