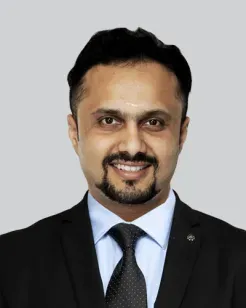 Dr. Rohit Kumar C
Consultant - Surgical Oncology & Robotic Surgery, HIPEC & PIPAC Specialist
MBBS, MS (General Surgery), DrNB (Surgical Oncology)
Overview
Dr. Rohit Kumar C graduated MBBS from Vijayanagara Institute of Medical Sciences (VIMS, Ballari) in 2008. He completed his Masters in General Surgery from prestigious Mysore Medical College & Research Institute, Mysore in 2013 and DrNB Surgical Oncology training in 2017 from Manipal Hospitals, Bangalore.
He has been a clinical fellow in Head and Neck Oncology from Memorial Sloan-Kettering Cancer Centre, USA (2019).  He is a certified Robotic Surgeon. He is a certified Peritoneal Surface Malignancy Surgeon (PIPAC). He has been awarded several travelling fellowships.
He is in team of expert doctors who have done most number of complex cytoreductive surgeries, HIPEC & PIPAC in India. He has several publications to his name both national and international with numerous firsts publications in area of artificial intelligence in oncology, fluorescence guided surgery (ICG based) and Pressurized Intraperitoneal Aerosol Chemotheraphy (PIPAC) in India. He has also won numerous awards at national and international conference for his clinical work.
He is actively involved in various organisations of cancer care and is presently serving as secretary of Association of Breast Surgeons of India (ABSI).
He was previously working as Consultant Surgical Oncology in Manipal Comprehensive Cancer Centre, Old Airport Road & Manipal Hospital, Sarjapur. Dr Rohit Kumar is one of the best & highly experienced surgical oncologist in Bangalore.
Area of expertise
Peritoneal Surface Malignancy (Advanced Cytoreductive Surgeries, HIPEC, PIPAC)

Thyroid and Parathyroid Surgery (Fluorescence Image Guided)

Complex and Advanced Gynaecological Oncology

Full range of Breast Care Surgeries (Breast Conservation, Sentinel Lymph Node, 

Oncoplasty, Mastectomy, Non-palpable Breast Lesion Surgeries)

Robotic Surgeries (Gynec Oncology, Gastrointestinal Cancers)

Complex Head and Neck Cancer Surgeries with Reconstruction

Fertility Preserving & Risk Reducing Surgeries

Soft Tissue Sarcoma

Preventive Oncology

Young and Adult Onset Oncology

Wellness and Holistic Approach optimizing the Four Pillars of Health: Sleep, Food,

Movement & Mind
Awards and recognitions
Young Scientist Award – ABSICON 2022
Millennium Gold Medal Award – SSB –ASI 2021
Awarded Travelling fellowship On behalf of the Society of Surgical Oncology for the 2019 Annual Meeting of Chinese Society of Clinical Oncology held at Xiamen between September 18 and September 22, 2019.
Awarded INDO-UK Travelling Fellowship ABSICON 2019
Awarded Best  Oral Paper award and Travelling fellowship in peritoneal surface malignancy in  ispsm-esso 2019
Best oral presentation with travelling fellowship in Global partner programme IASO-SSO2019
Selected for Proffered session in oral presentation and awarded travelling fellowship in ESSO 36 KRAKOW 2016
Awarded Best Poster Award In National Conference of Surgical Oncology ( 2014, 2015, 2016, 2017, 2019)
Awarded Best oral paper Award In National Conference of Surgical Oncology ( 2021)
Awarded Best Poster Award in National conference of Indian society of peritoneal surface malignancy (2017, 2018, 2019 )
Awarded Best Poster Award in National Conference of Association of Breast surgeons of India ( 2017, 2018, 2019 )
Best paper in research category at ASCON 2014