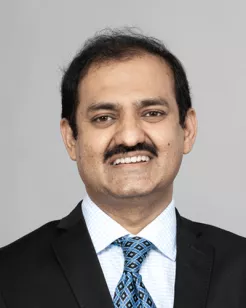 Prof. Dr. Somashekhar S P
Chairman - Medical Advisory Board, Aster DM Healthcare - GCC & India, Global Director - Aster International Institute of Oncology - GCC & India, Lead Consultant - Surgical & Gynaecological Oncology & Robotic Surgeon, HIPEC & PIPAC Super-specialist
MBBS, MS, MCh(Onco), FRCS Edinburgh
Overview
Dr. Somashekhar, who is one among the most accomplished super speciality consultants in Surgical Oncology, Robotic Surgery, HIPEC, PIPAC in India, as the Chairman of Medical Advisory Boarding & Global Director of Aster International Institute of Oncology.
Dr Somashekhar who did his MBBS from Mysore University, MS (Gen. Surgery) from NHL Medical College, MCh (Surgical Oncology) from GCRI Regional Cancer Centre has various other academic accomplishments including Fellowship in Robotic Surgery from Roswell Cancer Centre, Buffalo, USA. He had training in Gynaecological Oncology at Mayo Clinic, Rochester, Advanced Liver Surgery at Paul Brouses Hospital, Paris, Thoracic Onco Fellowship at Shanghai Chest Institute Beijing, Breast & Oncoplasty Fellowship from IEO Italy and UPMC Pittsburgh. He has performed over 3000 Robotic Surgeries which is the highest number of complex Robotic Onco Surgeries in the country and over 1000 HIPEC procedure in abdominal cancers, which is the largest series in Asia. He was instrumental in introducing SLNB Sentinel Node Biopsy in India way back in 2001.
Prof. Dr. Somashekhar has been awarded the prestigious Dr. D. D. Patel Gold Medal for his excellency in Onco Surgery and a Fellow from the Royal College of Surgeons, Edinburgh. He has authored several textbooks on Oncology and has over 300 publications in International and National Journals. He has been honoured with the prestigious Dronacharya Teachers Award for his contribution in the field of Surgical Oncology. He has also been awarded the Times Award for Excellence in Oncology, the Deccan Herald Excellency Award in Oncology, and the prestigious ASI P K Sinha Oration Award. He has been invited for the most prestigious orations in Royal College of Surgeons and Gynaecological Oncology, UK, Canada, Australia and US. He is conferred the most prestigious Bulkley-Barry-Cooper Professorship: Kings Health Partner, UK, London. He is also ex-Adjunct Professor Surgical Oncology, KMC University. He has trained over 134 surgical students in various sub-specialities. He is also Teacher and University Examiner in the field of Surgical Oncology for both MCh and DrNB Surgical Oncology (NBE board). He is Intuitive International Mentor and Trainer in the field of Robotic Surgery.
Before joining Aster, Prof. Dr. Somashekhar S P worked with Manipal Group of Hospitals as Chairman, Oncology, MHEPL and Manipal Comprehensive Cancer Center, HOD Department of Surgical & Gynec. Oncology, Bangalore and as Member Board of Studies, Manipal University, Manipal and Director of Breast Surgery & Oncoplasty, Robotic Surgery and Gynaecological Oncology University Fellowship Programs. He is the Ex-President of ABSI Association of Breast Surgeons of India, and Editor in Chief at Springer Indian Journal of Gynec Onco, Editor of Annals of Breast Diseases Journal, EC Council Member of PSOGI (Peritoneal Surface Oncology Group International) and Council Member of ISSPP (International Society Study of Peritoneum and Pleural), Council Member of AGOI (Association of Gynaec Oncology India), Hon. Secretary of ISPSM (Indian Society of Peritoneal Surface Malignancy) and Founding Member of CRSA-I (Clinical Robotic Surgeons Association India), Office Bearer of Indian Association of Surgical Oncologist and Association of Gynec. Oncologists of India.
Area of expertise
Surgical Oncology
Gynaecological Oncology
Robotic Surgery
Radio Guided Surgery
HIPEC
PIPAC
Sentinel Node
Awards and recognitions
Recipient of Millennium Gold Medal Award - 2006 ASI - SSB for work in Sentinel Lymp Node
Editor and Author of various Textbook and operative Atlas's on Oncosurgery and Breast Surgery, Gynaecological Oncology & Robotic Surgery
Has contributed several chapters to various International and National Textbook Oncology
Initiated HIPEC program for Peritoneal Surface Malignancy & has done largest number of HIPEC in India
Holder of Gujarat University record for highest individual marks in Mch (Oncosurgery) Exams
First in India to initiate Robotic Scarless Thyroidectomy programme & TORS
Has several scientific publications in indexed International and National Journals
Recipient of the prestigious Dr. D. D. Patel Gold Medal in Oncosurgery
Received Gujarat University Gold Medal in MCh (Oncosurgery)
Member of Board of studies, Manipal University
Member of Business Advisory Board, MHEPL
President elect ABSI: Association of Breast Surgeons of India
One of the top rankers of University in Graduation and Post-graduation
Director of Breast Surgery and Robotic surgery fellowship - Manipal University
Has done highest number of Robotic Complex Oncosurgeries in India
Mentor for Robotic Surgery Vantikutti / Intuitive Surgical.
Editor-in-Chief of IJGO-Springer Indian Journal of Gynec Oncology
Associate editor IJS - Indian Journal of Surgery
University Examiner for Oncosurgery
DNB-Examiner for Oncosurgery
Executive committee Member PSOGI (Peritoneal surface Oncology Group International)
Recipient of Times Award for excellency in Oncosurgery
Recipient of DH Deccan Herald excellency award
Prestigious ASI PK Sinha Oration award Recipient
Honoured with Prestigious Dronacharya Teachers Award in field of Surgical Oncology
Hon. Secretary of ISPSM (Indian Society of Peritoneal Surface Malignancy)
EC Council  Member of International Society of Study of Pleura and Peritoneuml
Teaching Faculty of DNB Surgical Oncology
Editor-in-Chief of Springer Journal IJGO
Asso. Editor of Springer Journal IJS Editor/ Annals of Beast Diseases
Ex-President of  ABSI
EC AGOI  EC Member of PSOGI
Ex. Adjunct Professor of Surgical Oncology, KMC Manipal University